PRIVATE BANKING
WE ARE THE BANC
FOR HEALTHCARE PROVIDERS
Caring for the financial health
of your practice
You know the value of specialists in healthcare. Get to know the value of specialists in healthcare finance.
To build and operate your medical, dental or veterinary practice as a profitable business, talk with one of our specialists in direct healthcare finance. They can help you navigate the complexities of healthcare financial management in a changing financial and regulatory environment, and offer innovative healthcare business banking solutions to help access healthcare business loans, maximize earnings, manage interest rate risk and expedite cash collections.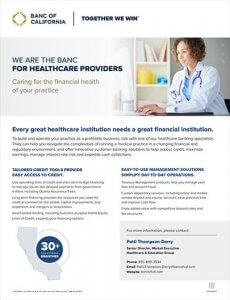 Product Sheet
Read more about how we empower your practice to succeed, and you to prosper.
Our specialists can help you manage your medical, dental or veterinary practice to empower growth.
We provide physicians, dentists and veterinarians with innovative, tailored banking and lending solutions and exceptional support. And because we know that healthcare providers are pressed for time and can benefit from professional consultations, you'll have a dedicated Relationship Manager to help you and your office manage cash flow cycles, meet your investment objectives and manage any needs that arise. Our clients include specialists in areas as diverse as cosmetic surgery, optometry pain management and others. Whatever your area of focus is, we can help you focus on that, confident that someone's looking out for your interests.
Tailored credit tools provide easy access to credit.
Use operating lines of credit and short-term bridge loans to manage issues like delayed payments from government entities including Quality Assurance Fees. Long-term financing provides the resources you need for medical commercial real estate, capital improvements and expansion, and mergers or acquisitions. Asset-based lending, including business-purpose Home Equity Lines of Credit, expands your financing options.
Easy-to-use management solutions simplify
day-to-day

operations.

Treasury Management products help you manage cash flow and prevent fraud. Custom depository services, including online and mobile remote deposit, and courier services, save precious time and improve cash flow. Enjoy added value with competitive deposit rates and fee structures.
Cash Management
Manage cash flow as a seamless part of your receiving and disbursing process so you can adjust for patient fluctuations and insurance changes as they happen. You can easily view all of your transactions, and we can consolidate your accounts for viewing in Quicken® or QuickBooksTM.1
Banking On The Go
Our Business Mobile Banking App gives you transparent and secure 24/7 access to your funds and account reporting and Mobile Check Deposit. We also offer Merchant Services2 and efficient in-office client credit card payments.
Practice-Building Services
We offer payroll services and specialty banking for managing your growing team of partners, associates and staff.
Fraud Protection
Our Fraud Prevention Services are designed to protect your clients' account information, and we offer Cash Vault Services as well.
A Seamless Transition
We are ready for your practice whenever you are ready to come on board. With experience in transitioning medical practices from a financial institution to Banc of California, we can quickly get your practice's account(s) up and running with our efficient implementation process.
Your Relationship Manager will offer comprehensive and reliable transition assistance to get you started, with minimal disruption to your office's existing banking processes, and will be on call for any questions or issues that may arise.

"
"Institutions like Banc of California help Californians to get together and to strive together."
– Dr. J. Aronowitz
Founder of Tower Wound Care Center

"
"The personalized service – it's exceeded my expectations, beyond what I could have ever imagined getting at any other banks."
– J. Amron
Owner of The Roxbury Institute
Healthcare finance and banking products and services

at-a-glance
Healthcare Business Banking
Competitive Deposit Rates
Business Online and Mobile Banking with Mobile Check Deposit 3
Courier Services
Merchant Services2
Payroll Services
Fund Transfers
Business Bill Payments
Download Transactions into Quicken®
or QuickBooksTM 1
Cash Vault Services
Fraud Prevention Services
Business Sweeps/Zero Balance Accounts
ACH Origination
Banking Services for Employees
Credit / Finance
Healthcare Investment Financing
Revolving Lines of Credit
Accounts Receivable Financing
Partner Capital Buy-in and Buyout Financing
Equipment Financing
Commercial Real Estate Financing
SBA and Government Loans
Consulting
Dedicated Relationship Manager
1Intuit, Quicken, and QuickBooks are registered trademarks of Intuit Inc. 2Merchant Services provided by Worldpay, LLC. 3Message and data rates may apply. All third-party trademarks referenced herein are the property of their respective owners.