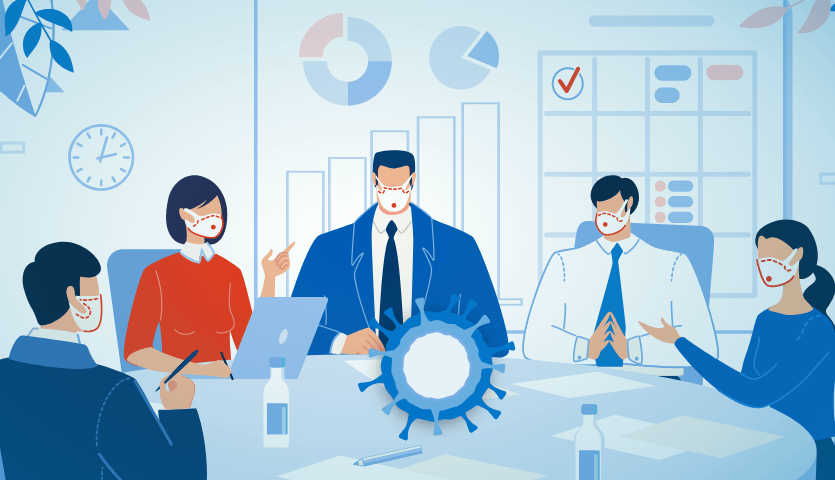 HEALTHCARE PRACTITIONERS TO CAPITALIZE ON POST-COVID OPPORTUNITIES
Pent-up demand and new technologies will alter the health care landscape
Pent-up demand and new technologies will alter the healthcare landscape as the crisis eases, and independent practitioners look to capitalize on post-covid opportunities
Our Healthcare banking team, Bill Schneiderwind and Patti Thompson-Derry, were recently featured in the Healthcare Roundtable with the L.A. Times Brand Publishing group, and provided their insights about issues facing the healthcare industry and how independent practitioners can look for ways to grow their practices in the current economic environment. Bill and Patti highlighted post-COVID trends, including new technologies that are enhancing the patient experience and the importance of having access to banking solutions and financing to support business growth. Read on for the full Q&A article.
Obviously, the frontlines of the healthcare sector have been forced to make changes over the last year due to the COVID-19 pandemic. How dramatically have the healthcare business and operational landscapes changed in the last year?
Significant changes arrived on two fronts. First, many senior healthcare professionals chose to retire and close or sell their practices. Second, doctors and dentists further from retirement reported robust rebounds, some to the point of having a record year, with most reporting routine checkup backlogs of over 90 days. We attribute that to pent-up demand, and the retirement or slowing of aging professionals and their patients seeking alternate providers. Banc of California can assist rising healthcare professionals find the right practice in the right locations, because we are market aware, and have contacts in the practice brokerage, real estate, equipment, consulting, legal and accounting spaces. Our deep healthcare-specific expertise enables us to help them negotiate better practice and real estate purchases, because the majority of the dental broker community typically represents the seller's interests.
How well have the health provider organizations and businesses (hospitals, private practices, insurance, etc.) in Southern California responded to the situation?
We have seen multiple examples of healthcare professionals pivoting to telehealth models to provide needed services to patients. A dermatology group implemented their telehealth platform pre-pandemic and were not only able to assist their own skyrocketing patient demands, but they also assisted their friendly competitors by allowing them access to their platform while all offices were shut down for two months. Another dental practice was able to preplan their patient visits via Zoom, resulting in shorter wait times and fewer face-to-face interactions, which was a relief to providers and patients alike. As a healthcare banking partner, we were in a position to assist practices like this to meet the demand and grow by providing working capital for expansion of capability, as well as leveraging a company's real estate assets into a vehicle for expansion by cash-out refinance of their commercial real estate.
What emerging trends will impact the healthcare industry in the near future?
The obvious example is the Emergency Use Authorization of the Messenger RNA technology used to fast-track the COVID 19 vaccine, which may show a way for expedited approvals in the future. Banc of California is exploring solutions to assist innovative healthcare and pharmaceutical companies on the rise with substantial venture and established collaboration backing by providing real-estate-based financing to help them build capacity and meet future demand.
What business opportunities have presented themselves during COVID-19 in the world of healthcare?
Since online sales have supplanted many businesses that relied on foot traffic, many healthcare professionals have set themselves up in former retail settings. We see urgent care offices in former clothing store spaces, as well as groups of healthcare professionals who purchased and repurposed entire general office buildings into medical-specific use. At Banc of California, we have a robust platform providing owner-occupied financing and investor financing for medical buildings to healthcare professionals and practices looking to take advantage of these opportunities in the Southern California markets.
How will virtual care and/or telemedicine affect the healthcare landscape moving forward?
Pre-pandemic, a majority of telehealth platform users were reluctant to use it, but, as with many businesses, the use of the Zoom, et al. proved vital, and substantially improved their efficiency. Less commuting time meant more time getting vital tasks done, and while many providers are excited to return to face-to-face interactions, the pandemic sped up the adoption of technologies and processes that will become standard practice in the near future. Some enterprising dental practices in Southern California employed full-time treatment planners to interview patients in advance of their visit. The result was reduced patient waiting times and improved patient throughput, and provided employment to dentists at home. We believe these processes and technology will become permanent parts of a thriving practice, and a strong healthcare-focused banking partner can provide healthcare companies with lines of credit secured by the assets of the practice or available commercial real estate to support innovation.
How are today's technological advances being leveraged to improve the health and well-being of patients?
Digital Medical Record Systems have replaced paper files in most practices, Cone Beam technology assists with advanced procedures like dental implants, and Advanced imaging systems produce instant dental images and transmit them to an iPad or computer monitor to be shared with a patient. Patients can be shown the areas of issue and make more informed and immediate decisions about care. Meanwhile, aging Baby Boomer practitioners will not only be retiring, but their aging peers will require increasing dental care. At the same time, fewer dentists are coming out of dental schools to replace them. Those dental professionals who are left will need to rely on these new technologies, along with a bank that understands these trends and can provide equipment financing to help them keep up with increased demand and provide more accurate and effective results for patients.
As independent medical and dental practices continue to recover from the pandemic and look for ways to meet the pent-up demand, would now be a good time to invest in payroll, supplies, and new technology?
These are challenging times for independent medical and dental practices as consumers have put off routine checkups and elective procedures during the pandemic. Having access to banking solutions and financing geared to healthcare professionals is critical, as practices become fully operational and begin looking for ways to grow in the current economic environment. With government assistance programs coming to an end, these practices will have to find other methods to sustain and support growth. At Banc of California, we recently launched a product called Banc Premier, which was created specifically to meet the needs of smaller businesses by providing fast funding to secure short-term working capital to invest in new technology, increase inventory or put towards payroll. Innovative financing paired with robust treasury management services can help these practices meet pent-up demand.
CONNECT WITH A

RELATIONSHIP MANAGER
COMPLETE THIS FORM OR CALL
877-770-BANC (2262)
CONNECT WITH A RELATIONSHIP MANAGER
who specializes in your industry by completing the form